Dumplings
Potato dumplings should be regard as a completion of our flour products. They are brand new products in our offer. Due to the implementation of the best quality ingredients, the taste and texture of our Dumpling range is of the highest standard. Our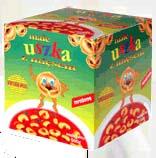 Potato dumplings should be regard as a completion of our flour products. They are brand new products in our offer. Due to the implementation of the best quality ingredients, the taste and texture of our Dumpling range is of the highest standard. Our efforts made to desired product on polish market.
Currently we can offer basic Potato Dumplings - without fillings - or dumplings with meet (Pork/Beef Mix) fillings or Silesian Dumplings with hole. We are prepared to wide this range according to our client's requirements.
Dumplings may be served with different sauces, greaves, goulash or as a splendid substitute to boiled potatoes. All depends of your culinary preferences.
High quality and good taste have always been our goal. We have been working since many years on health and nutritional issues. We used the technologies only of the firms with best reputation. Recipes are still monitored by us to be sure of their highest quality. Our raw materials are obtained from reliable suppliers, who we have been cooperating since many years with. Our meat is obtained from farms in Southern Poland in a traditional way, without the use of harmful chemical/ industrial additives and comes only from the suppliers who have the safety and quality systems implemented. Our vegetables originate from ecologically conscious farmland of Pinczow region (Central Poland). We do not ever use chemical preservatives or other artificial additives to improve the taste or consistency of our products.
All this just described selection in connection with our recipes is a guarantee of fantastic homemade taste.

back to Products