Polish pierogi Regional kitchen
It would be really impossible for Polish company not to offer this traditional polish dish.

We offer pierogi in hearty and sweet line. To the first one count Curd Cheese Pierogi, Pierogi with Cabbage and Mushrooms, Meat,. The second contains of Pi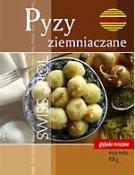 PIEROGI (traditional Polish filled Pasta pockets)
It would be really impossible for Polish company not to offer this traditional polish dish.
We offer pierogi in hearty and sweet line. To the first one count Curd Cheese Pierogi, Pierogi with Cabbage and Mushrooms, Meat,. The second contains of Pierogi with Cheese and with Strawberries. Pierogi are very popular by many consumers in our country.
Listening to the voices of our customers we implemented the Premium line of Pierogi which are produced by using traditional homemade methods and hand made. Their taste is exceptional and they are worthy to be respected by all discerning gourmets.
High quality and good taste have always been our goal. We have been working since many years on health and nutritional issues. We used the technologies only of the firms with best reputation. Recipes are still monitored by us to be sure of their highest quality. Our raw materials are obtained from reliable suppliers, who we have been cooperating since many years with. Our meat is obtained from farms in Southern Poland in a traditional way, without the use of harmful chemical/ industrial additives and comes only from the suppliers who have the safety and quality systems implemented. Our vegetables originate from ecologically conscious farmland of Pinczow region (Central Poland). We do not ever use chemical preservatives or other artificial additives to improve the taste or consistency of our products.
All this just described selection in connection with our recipes is a guarantee of fantastic homemade taste.

back to Products