-aA+ Nisa International
Nisa International Nisa International are the UK's premier export
wholesaler of British grocery products, and the
export arm of the Nisa-Today's Group - Britain's largest
supermarket and wholesale buying and distribution group.
We supply retailers an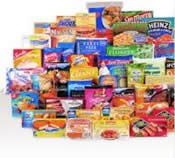 Nisa International are the UK's premier export
wholesaler of British grocery products, and the
export arm of the Nisa-Today's Group - Britain's largest
supermarket and wholesale buying and distribution group.
We supply retailers and distributors worldwide from a range
of more than 12,000 supermarket items, backed by a
high level of service and full logistical support.
Through our in-house freight management function we can arrange anything from a simple delivery within the UK, right through to full multi-modal freight and customs management of your order to the final destination.

We hold a comprehensive database of freight suppliers and have considerable expertise in this field, which allows us to select the most cost-effective routing for your order, whether it travels by sea, road or air.
We have put our Product List online for your convenience, but with much more, using an easy search function either by category, code or description. We are currently working hard to bring you up-to-date images of each product as well as full listed ingredients, which will then give you the ability to print off your own translated ingredients labels as required.




back to Contractors