-aA+ EZ Trade Center
Our business is buying and selling your products on the world market! The EZ Trade Center is a specialist in International Trade and helps companies to point out the route to competitiveness and professional excellence in international markets, and give support to the processes of importing and exporting, bringing personalization and specialization into play in these areas which are ever more sensitive and decisive for companies.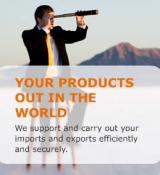 The scenario of the world market, combined with an explosive growth seen at the level of technology and e-commerce, represents for companies a huge variety of opportunities and challenges in areas where they sometimes have little or no experience. In this way the EZ Trade Center offers services adapted to each phase of expansion of companies' activities in the world market, using its own methodology and technological tools for supporting international trade.

It is made up of independent consultants, experienced and dedicated, for a close relationship with each client.

EZ Trade Center was set up in 2004 as part of the Onebiz Group, the largest national holding company for business services: it is present in 26 countries and provides services to more than 100,000 clients.


back to Contractors